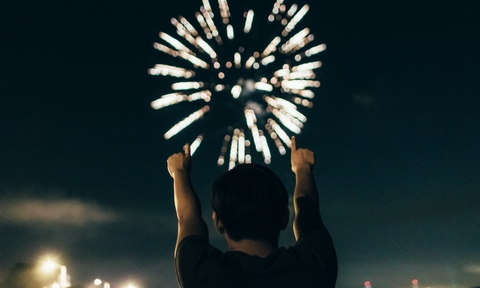 Happy (almost) 4th of July from Graff Realty! If you're like us, you already have your red white and blue outfit on display in your closet and have placed your patriotic pet bandana order on Amazon. A trip to Party City for additional accessories (we like the light up necklaces and glow sticks) may also be on this week's to-do list.

As San Diegan Realtors®, we're always being asked for restaurant suggestions, along with our opinions of best beaches and fun things to do in neighborhoods across this sunny beach city. 4th of July is one of our favorite holidays to celebrate in San Diego, so if you don't already know where you're going to watch the fireworks this year, you're in luck! Based on our personal opinions and a quite a bit of research, we've compiled a list of this year's best bets for a memorable San Diegan 4th of July!

Note: The event times and locations listed below are subject to change and possible cancellation due to inclement weather or unforeseen circumstances.
San Diego's 4th of July Fireworks & Parades 2017! Graff Realty's Top Picks
LA JOLLA
PARADE: Bird Rock's 38th Annual Beaumont Avenue 4th of July Parade (This year's theme is "Tiki Time")
· When: July 4th at 10am
· Where: Beaumont Ave. between Camino de La Costa and Via Del Norte

Arrive early to find parking and get a good parade-viewing spot! This is our go-to 4th of July morning event, as the huge majority of attendees are festively dressed and many of Beaumont Avenue's homes are donned in red white and blue. Last year, there was live music, a free photo booth and food trucks at the parade's finish line. For additional information, please refer to page 15 of the Bird Rock Newsletter HERE.

FIREWORKS: La Jolla Cove Fireworks
· When: July 4th at 9pm
· Where: Ellen Browning Scripps Park, 1180 Coast Boulevard, La Jolla, CA 92037
This is by far our favorite firework-viewing spot in SD! We bring beach chairs and claim our spot amongst the crowd on Girard Ave. & Coast Blvd., as the road is on a nice downslope and the fireworks are close enough to appear beautifully enormous. Prefer a more sophisticated firework-viewing option? George's at the Cove is is offering "Fourth of July Dinner and Fireworks", which includes a three course meal. Learn more and book your reservation HERE.
Other noteworthy 4th of July events and firework displays happening across coastal San Diego:
DOWNTOWN
FIREWORKS: "Big Bay Boom"
· When: July 4th at 9pm
· Where: Various Locations along San Diego Bay (Map out your game plan HERE)
This is by far San Diego's biggest firework show! Fireworks will be launched from four barges across North San Diego Bay.
CORONADO
PARADE: Independence Day Parade
· When: July 4th at 10am
· Where: Orange Ave from 1st Street to Churchill Place

ADDITIONAL EVENTS: Concert in the Park by the Coronado Community Concert Band (Review a full list of the day's events HERE)
· When: July 4th at 4pm
· Where: Spreckels Park (601 Orange Ave.)

FIREWORKS:
· When: July 4th at 9pm, set to music on 96.5FM
· Where: Glorietta Bay (The Coronado Golf Course and Stingray Point are both excellent viewing spots!)
DEL MAR
PARADE: Del Mar Foundation's Annual 4th of July Parade
· When: July 4th at 9:30am
· Where: Starts at Powerhouse Park (1658 Coast Blvd Del Mar, CA 92014) and makes its way up Coast Blvd.
Live DJ and complimentary refreshments provided by Jake's Del Mar and Gelson's Del Mar.
FIREWORKS: San Diego County Fair's Firework Show
· When: July 4th at 9pm
· Where: Del Mar Fairgrounds, at the Heineken Grandstand Stage
OCEANSIDE
PARADE: 23rd Annual Independence Parade
· When: July 1st at 10am
· Where: Downtown Oceanside Parade Route Map

ADDITIONAL EVENTS: 16th Annual Decorated Dinghy Parade (Review a full list of the weekend's events HERE)
· When: July 4th 1-3pm
· Where: Oceanside Harbor

FIREWORKS: Oceanside Fireworks Show
· When: July 3rd, 6-10pm
· Where: Rancho del Oro (north of Oceanside Blvd.)
Bring a beach chair and stake your spot on Rancho del Oro. Food trucks will be parked along the street.
OCEAN BEACH
FIREWORKS:
· When: 9pm, set to music on 96.5FM
· Where: Ocean Beach Pier (Newport Ave.)
Enjoyed reading San Diego's 4th of July Fireworks 2017! Graff Realty's Top Picks? Subscribe to our blog HERE to follow our fun conversations about the sunny San Diego community that we love. We'd love to hear about your opinions about San Diego's firework shows in our conversation below! Interested in buying or selling a piece of real estate? Learn more about Graff Realty's exceptional Realtors® HERE, who will make sure your next transaction is a smooth and simple one.